While browsing through a Goodwill store recently, I came across this little item.
I'm sure Emma got some good use out of this at some point, but since it landed in the local Goodwill, I'm going to assume Emma has moved on to bigger and better things.
The first step is to sand it all down. Sorry Emma.
I really didn't want to prime it because I wanted to the wood grain to show through, but the stinkin' yellow color wouldn't sand off, so I had no choice. After priming, I gave it a coat of Heirloom White then sanded it in areas where it would get normal wear and tear.
Because I have plans to put this in my kitchen, I used the same colors of paint and glaze that I used on the kitchen cupboards.
After glazing. I loved the look, but it just needed something in front.
I looked through my collection of old handles and knobs and found the perfect hardware in the wrong color. I didn't want gold, so I sprayed it pewter and drilled a hole. It was the perfect addition.
Emma's little crayon box has become the perfect little cutlery caddy for my kitchen island.
The total cost for this project was $2. I paid exactly that for the little box. The rest of the materials, I already had.
Thanks Emma, whoever you are.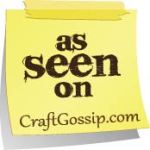 Linked Up to These Great Linky Parties:
Metamorphosis Monday
DIY Project Parade
Make it for Monday
Just Something I Whipped Up
Motivated Monday
Today's Thrifty Treasures
Garage Salen
Nifty Thrifty Tuesdays
Get Your Craft On Tuesday
Anything Related
Lucky Linky Tuesday
Talented Tuesday
Take a Look Tuesday
Power of Paint Party
Creative Share Wednesdays
Penny Pinching Party
Hookin Up with HOH
Strut Your Stuff Thursday
Featuring YOU Friday
Frugalicious Friday
I'm Lovin it Fridays
Remodelaholic Friday
Feature Yourself Friday
Flaunt it Friday
Show and Tell Friday
Frugal Friday
Saturday Nite Special
Weekend Wrap Up
Sunday Showcase
Sundae Scoop
Sunday Favorites